13.04.2017 | Ausgabe 6/2017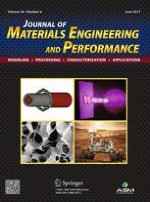 Effect of Post-weld Heat Treatment on the Fatigue and Fracture Mechanisms of Weld-Repaired Bisplate80 With or Without a Buffer Layer
Zeitschrift:
Autoren:

Chunguo Zhang, Cuiping Ren, Beibei Lei, Xiaozhi Hu, Pengmin Lu
Abstract
In this work, weld-repaired Bisplate80 joints without or with a buffer layer (BL) were subjected to a post-weld heat treatment (PWHT) at 930 °C for 1 h followed by air cooling. The mechanical properties and fracture mechanism of the PWHT specimens were compared to those from corresponding as-welded specimens to study the influence of the PWHT and to compare them with as-received Bisplate80 specimens to inspect the welding quality of the joints. Fatigue crack growth curves and micro-hardness profiles across the welded joints for the as-weld or PWHT conditions were measured together with relevant scanning electron microscope observations along the crack growth path. Special attention was paid to the areas at and around the welded interfaces. The results showed that the incorporation of a BL with an appropriate thickness significantly improved the fatigue crack growth behavior of the welded joint for the PWHT condition, as the d
a
/d
N
over the entire area of the welded joint was much lower than for both the as-welded and as-received Bisplate80 specimens, showing that the incorporated BL greatly improved the fracture mechanisms of the fatigue specimens.