12.11.2020 | Ausgabe 7-8/2020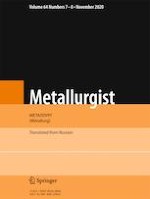 Effect of Preliminary Firing on Oxidation of Mo–Mo3Si Alloyed with Sc or Nd
Zeitschrift:
Autoren:

L. Yu. Udoeva, K. V. Pikulin, R. I. Gulyaeva, A. V. Larionov, S. N. Tyushnyakov
Wichtige Hinweise
Translated from Metallurg, Vol. 64, No. 8, pp. 77–82, August, 2020.
The main tasks of studying molybdenum silicides for use at elevated temperature include development of materials with a melting point
T
me
≥ 2000°C, possibly with a low brittle-ductile transition temperature and resistance to high temperature oxidation. The possibility is considered of increasing corrosion resistance of a model alloy consisting of molybdenum solid solution and Mo
3
Si. The effect of Sc or Nd alloying additives, as well as preliminary high-temperature annealing. i.e., pre-oxidation in order to create a protective oxide layer on the alloy surface of a model alloy, is evaluated. Non-isothermal oxidation of alloys is performed using combined thermogravimetric and differential thermal analysis methods. The phase composition of the scale formed is determined by an X-ray diffraction method. As a result of these studies it is established that preliminary oxidation firing of Mo–Mo
3
Si–REE (about 3 at.%) alloys at 1100°C for 5–10 min provides conditions for forming a layer of SiO
2
and REE molybdates Sc
2
(MoO
4
)
3
and Nd
2
Si
2
O
7
at the alloy surface. Oxidation in a dynamic regime for treated alloys in the range 500–850°C proceeds much more slowly than for the initial samples. This can be explained by the difficult access of oxygen to the reaction zone through a protective layer of non-volatile oxides. In addition, preliminary oxidation of Mo–Mo
3
Si alloyed with Sc or Nd during subsequent oxidation leads to an increase in the transition temperature for the process from the stage of oxide formation to intense MoO
3
sublimation.