01.03.2015 | Original Contribution | Ausgabe 3/2015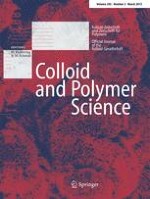 Effect of pressure on the structure and properties of polymeric gel based on polymer PVdF-HFP and ionic liquid [BMIM][BF4]
Zeitschrift:
Autoren:

Chaosheng Yuan, Lei Su, Kun Yang, Zijiong Li, Xuerui Cheng, Yongqiang Wang, Liangbin Li
Wichtige Hinweise
Electronic supplementary material
The online version of this article (doi:
10.​1007/​s00396-014-3466-7
) contains supplementary material, which is available to authorized users.
Abstract
Poly(vinylidenefluoride-co-hexafluoropropylene) (PVdF-HFP)/ionic liquid (IL) (1-butyl-3-methylimidazolium tetrafluoroborate, [BMIM][BF4]) polymeric gels were prepared by cooling method under 0.2, 250, 500, and 750 MPa, respectively. The gel structure and electrochemical property were characterized by differential scanning calorimetry (DSC), X-ray diffraction (XRD), scanning electron microscopy (SEM), Fourier transform infrared (FT-IR), complex impedance spectroscopy (CIS), and cyclic voltammetry (CV). It was found that the phase structure of PVdF-HFP/[BMIM][BF4] gel became more orderly while the fracture surface became more irregular with the pressure increasing. FT-IR spectroscopy revealed that ionic liquid (IL) partly complexed with the polymer PVdF-HFP and partly remained dispersed in the matrix, and the relative ratio of them could be changed by high pressure. The ionic conductivity of PVdF-HFP/[BMIM][BF4] gel was increased with the pressure increasing below 500 MPa, however, decreased from 500 to 750 MPa, which was similar to variation of the amount of uncomplexed IL. It was attributed to the effect of high pressure on ionic density and gel structure of polymer-IL gel. These results indicated that the gel formation under high pressure might be another promising way to prepare IL-GPEs with excellent properties.