05.05.2016 | Symposium: New Steels for Applications under Extreme Conditions | Ausgabe 11/2016 Open Access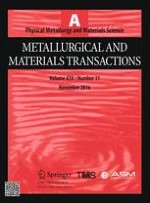 Effect of Prior Austenite Grain Size Refinement by Thermal Cycling on the Microstructural Features of As-Quenched Lath Martensite
Zeitschrift:
Autoren:

Javier Hidalgo, Maria Jesus Santofimia
Wichtige Hinweise
Manuscript submitted January 25, 2016.
1

Introduction

Lath martensite is a key constituent of many advanced high strength steels such as martensitic steels, dual-phase (DP) steels, and other multi-phase steels like low-alloyed transformation-induced plasticity and quenching and partitioning steels. Many efforts are devoted to understand these microstructures and their effects on the mechanical properties. Prior austenite grain size (PAGS), steel compositions and processing routes play an important role in the formation and characteristics of lath martensite. However, there is not a clear explanation yet of how the PAGS affects martensite formation and consequently the resulting microstructures.

The present work explores the process of thermal cycling as a method to reduce PAGS and analyze further formation of lath martensite upon quenching. In this research, a 0.3C-1.5Si-3.5Mn steel was subjected to different heat treatments consisting of subsequent rapid austenitizing and quenching thermal cycles in order to reduce the PAGS. The effect of PAGS reduction on the size of blocks and packets, dislocation density, carbon distribution, and RA fraction was thoroughly investigated. Those microstructural features were analyzed by a combination of different techniques such as scanning electron microscopy (SEM), electron backscatter diffraction (EBSD), X-ray diffraction (XRD), and vibrating sample magnetometer (VSM). The observed microstructural modification was related with the manner in which martensite forms from austenite with different PAGS.
2

Experimental Procedure

A 0.3C-1.6Si-3.5Mn (wt pct) steel was used in the present study. The 4-mm-thick steel sheets were received in the hot-rolled condition and the microstructure consisted of martensite with a RA fraction of approximately 0.05. Cylindrical specimens, with a length of 10 mm and a diameter of 3.5 mm, were machined parallel to the rolling direction of the sheets. They were subjected to a set of four different heat treatments in a Bähr DIL 805 A/D dilatometer. These consisted of one or several rapid full austenitizing and quenching processes, as detailed in Figure

1

(b). The specimens were named Cycle

X

, where

X

refers to the number of applied consecutive cycles (

X

= 1 ,.., 4). The Ms temperature was determined following the 1 pct offset method proposed by Yang and Bhadeshia[

17

] and using fitting for non-linear FCC and BCC lattice thermal expansion according to Van Bohemen.[

18

]

A LakeShore 7307 VSM was used to determine RA fractions,

f

γ

. The samples were disk-shaped with a diameter of 3.5 and 2-mm thickness. A standard NIST nickel specimen was used to calibrate the VSM. The procedure followed is derived from the method described in Reference

19

.

Specimens of each heat treatment were metallographically prepared for EBSD and SEM observation with a final polishing step of 0.05

µ

m using an OPS suspension for 30 minutes. The SEM study was made after etching with 2 pct Nital, using a JEOL JSM-6500F field emission gun scanning electron microscope (FEG-SEM) operating at 17 kV. Orientation imaging microscopy (OIM) was performed on a FEI Nova600 Nanolab dual-beam (focused ion-beam) scanning electron microscope equipped with a FEG column. The analyses were carried out under the following conditions: acceleration voltage of 20 kV; working distance of 25 mm; tilt angle of 70 deg; and step size of 50 nm. Depending on the sample, several scans were made to cover a minimum of around 100 PAG. The orientation data were post-processed with the TSL software.

Grain substructures were resolved by interpretation of EBSD maps. In order to facilitate PAGS identification, clean-up was made by applying neighbor orientation correlation and grain dilatation tools of the OIM software. For the analysis of other microstructural features, the clean-up was avoided. After proper identification, the dimensions of these substructures were measured and statistics of the characteristic size were obtained. In the present work, the linear intercept method[

20

] was used to measure sizes of the PAGS and packets (PS). Equidistant horizontal and vertical lines were drawn (500 using OIM software) and the resulting mean intercept sizes of each line were averaged. The block width (BW) was estimated by drawing misorientation profile lines along multiple clusters of parallel blocks. These profile lines follow the direction of the BW. More than 100 blocks were consider to have a mean value.

X-ray diffraction experiments were performed using a Bruker type D8-Advance diffractometer in Bragg-Brenato geometry and a Lynxeye position sensitive detector using a Cu anode. Measurements were performed in the angular range of 38 deg (2

θ

) to 145 deg (2

θ

) with a step size of 0.03 deg and counting time of 1 s. The base line of the XRD profile was removed. Then K

α

2

elimination was performed and the intensity was corrected for the Lorentz Polarization factor.[

21

] In the present work, linear least squares combined with Cohen method[

22

] is used to obtain the mean value of martensite lattice parameter,

a

BCC

, that minimizes the effect of random error in the measurements. Modified Williamson-Hall plots were employed for the estimation of the dislocation density from X-ray profiles as described in Reference

23

. Reference values were obtained by XRD measurements on a Cycle I specimen that was annealed just below the intercritical region and subsequently quenched, with the aim of obtaining a relaxed BCC lattice (

i.e.

, with minimum dislocation density) in which most of the carbon is in cementite carbides.

Vickers 1 kg micro-hardness was measured with a Struers Durascan tester over the cross section of the dilatometry sample to determine the effect of microstructure in hardness and support the discussion of the results.
5

Conclusions

The application of thermal cycling to a 0.3C-1.5Si-3.5Mn steel was shown to be effective in reducing the PAGS which led to the following effects in the microstructure:
The size of PAGSs, packets, and blocks decreased more effectively after first cycles, but their size distribution tended to homogenize with the number of cycles. This led to the observation of an increase in the density of high misorientation grain boundaries with the number of cycles.

The number of variants per parent austenite grain was reduced and the morphology of the packets and blocks rounds as the PAGS is reduced.

The dislocation density in martensite increased with decreasing PAGS and followed an inverse relation with the martensite grain substructure sizes which can be explained by an increase of prior austenite strengthening.

Locally, the distribution of GNDs was found to be heterogeneous, showing low-strained substructures surrounded by highly strained regions. This suggested the early growth of some preferential blocks, which forces the surroundings to accommodate the resulting volume expansion.

The carbon concentration in solid solution increased and carbides were refined as PAGS was reduced. The combination of a higher dislocation density and a reduction of

M

S

as PAGS was reduced affect the auto-tempering and thus the carbon redistribution and carbide formation.

Slight variation of hardness with grain size is observed, although Hall–Petch relations are observed in all grain substructures. The reasons for high hardness and its dependence on total C content in martensite, dislocation density, and grain size are still uncertain. This will be further investigated in a future work.

As the PAGS was refined, the Ms lowered and slightly higher austenite fractions were retained at room temperature. This is related with prior austenite strengthening by different mechanisms and the need of a higher undercooling to compensate the elastic strain energy by chemical-free energy in order to promote nucleation of martensite.
The present work demonstrates that the manner in which martensite forms, influenced by the strengthening of prior austenite and reduction of available variants as the size is reduced during thermal cycling, has a strong effect on different interrelated microstructural features.
Acknowledgments
The authors want to acknowledge Jilt Sietsma and R. Huizenga from TU Delft as well as R. Petrov and F.C. Cerda from Ghent and Delft University for their help and wise advice for the present work. The research leading to these results has received funding from the European Research Council under the European Union's Seventh Framework Programme (FP/2007-2013) / ERC Grant Agreement n. [306292].
Open Access
This article is distributed under the terms of the Creative Commons Attribution 4.0 International License (
http://​creativecommons.​org/​licenses/​by/​4.​0/​
), which permits unrestricted use, distribution, and reproduction in any medium, provided you give appropriate credit to the original author(s) and the source, provide a link to the Creative Commons license, and indicate if changes were made.