07.06.2018 | Topical Collection: Superalloys and Their Applications | Ausgabe 9/2018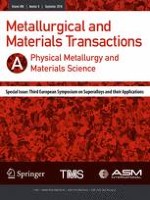 Effect of Rhenium Addition on Hot Corrosion Resistance of Ni-Based Single Crystal Superalloys
Zeitschrift:
Autoren:

J. X. Chang, D. Wang, X. G. Liu, L. H. Lou, J. Zhang
Wichtige Hinweise
Manuscript submitted March 13, 2018.
Abstract
Hot corrosion behavior of two Ni-based single crystal superalloys containing 0 Re and 2 wt pct Re in molten sodium sulfate (Na2SO4) at 900 °C in static air has been investigated using the "deposit recoat" method. It was shown that the incubation period of the Re-containing alloy was much longer than that of the Re-free alloy. It was because Re increased the stability of the chromium oxide (Cr2O3) scale, promoted the formation of nickel titanate (NiTiO3), and suppressed the diffusion of Ni. In addition, the overall corrosion kinetics of the Re-containing alloy followed a multistage parabolic law, compared with the Re-free alloy. This could be because Re increased the activity of chromium (Cr) and titanium (Ti), which resulted in the periodically opening and closure of the cracks in the outer oxide layer.