05.10.2017 | Ausgabe 12/2017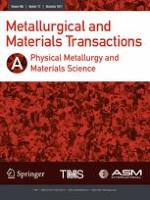 Effect of Rolling and Subsequent Annealing on Microstructure, Microtexture, and Properties of an Experimental Duplex Stainless Steel
Zeitschrift:
Autoren:

Arka Mandal, Sudipta Patra, Debalay Chakrabarti, Shiv Brat Singh
Wichtige Hinweise
Manuscript submitted May 23, 2017.
Abstract
A lean duplex stainless steel (LDSS) has been prepared with low-N content and processed by different thermo-mechanical schedules, similar to the industrial processing that comprised hot-rolling, cold-rolling, and annealing treatments. The microstructure developed in the present study on low-N LDSS has been compared to that of high-N LDSS as reported in the literature. As N is an austenite stabilizer, lower-N content reduced the stability of austenite and the austenite content in low-N LDSS with respect to the conventional LDSS. Due to low stability of austenite in low-N LDSS, cold rolling resulted in strain-induced martensitic transformation and the reversion of martensite to austenite during subsequent annealing contributed to significant grain refinement within the austenite regions.
δ
-ferrite grains in low-N LDSS, on the other hand, are refined by extended recovery mechanism. Initial solidification texture (mainly cube texture) within the
δ
-ferrite region finally converted into gamma-fiber texture after cold rolling and annealing. Although MS-brass component dominated the austenite texture in low-N LDSS after hot rolling and cold rolling, that even transformed into alpha-fiber texture after the final annealing. Due to the significant grain refinement and formation of beneficial texture within both austenite and ferrite, good combination of strength and ductility has been achieved in cold-rolled and annealed sample of low-N LDSS steel.