01.08.2014 | Ausgabe 4/2014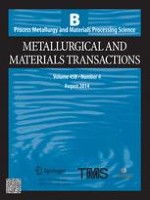 Effect of Slag on Inclusions During Electroslag Remelting Process of Die Steel
Zeitschrift:
Autoren:

Yan-Wu Dong, Zhou-Hua Jiang, Yu-Long Cao, Ang Yu, Dong Hou
Wichtige Hinweise
Manuscript submitted September 12, 2013.
Abstract
Many factors influence the non-metallic inclusions in electroslag steel including furnace atmosphere and inclusions' content in the consumable electrode, slag amount and its composition, power input, melting rate, filling ratio, and so on. Fluoride containing slag, which influences the non-metallic inclusions to a great extent, has been widely used for the electroslag remelting process. The current paper focuses on the effect of fluoride containing slag on the inclusions in electroslag ingots based on the interaction of the slag-metal interface and electroslag remelting process. In this work, die steel of CR-5A and several slags have been employed for investigating the effect of slag on inclusions in an electrical resistance furnace under argon atmosphere in order to eliminate the effect of ambient oxygen. Specimens were taken at different times for analyzing the content, dimensions, and type of non-metallic inclusions. Results of quantitative metallographic analysis indicate that a multi-component slag has better capacity for controlling the amount of inclusions; especially protective gas atmosphere has also been adopted. The findings of inclusions in electroslag steel by SEM–EDS analysis reveal that most non-metallic inclusions in electroslag steel are MgO-Al2O3 inclusions for multi-component slags, but it is Al2O3 inclusions when remelting using conventional 70 wt pct CaF2-30 wt pct Al2O3 slag. The maximal inclusions' size using multi-component slags is less than that using conventional binary slag. Small filling ratio as well as protective gas atmosphere is favorable for controlling the non-metallic inclusions in electroslag steel. All the results obtained will be compared to the original state inclusions in steel, which contribute to choice of slag for electroslag remelting.