01.02.2013 | Original Paper | Ausgabe 1/2013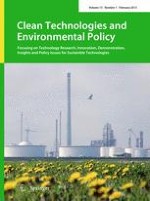 Effect of street geometrical layout on dispersion emissions of traffic exhaust: experimental simulation
Zeitschrift:
Autoren:

Mohamed F. Yassin, Masaake Ohba
Abstract
Pollutants dispersion emitted from road traffic is a dominant source of urban air pollution. Therefore, it is necessary to quantify emission levels in urban street canyon to evaluate their impacts on the public health and the environment. In this article, we study the effect of different street geometrical layouts on dispersion emissions of traffic exhausts for winds perpendicular to the roadway. A wind tunnel experiment modeling three different street geometrical layouts was executed to examine the flow fields and the concentration distributions in urban canyon. The flow and pollutants concentration were measured using a hot-wire anemometer with a split-fiber probe and a fast flame ionization detector under neutral atmospheric conditions. Flow and Dispersion characteristics were studied that included mean velocity, turbulence intensity, Reynolds stress, turbulent kinetic energy (TKE), mean concentrations, and fluctuation intensity of concentration in the street canyon. The results show that the vertical velocity and turbulent energy increases as the aspect ratio increases. The pollutant concentration increases as the aspect ratio decreases. The concentration fluctuation intensities of the aspect ratio
W
/
H
= 1 was found lower than that of the aspect ratios
W
/
H
= ½ and ¾. The pollutant concentration at the leeward side of the aspect ratios
W
/
H
= ¾ and 1 was higher than that in the aspect ratios
W
/
H
= ½. The pollutant concentration distributions measured in the experiment indicates that the variability of the street geometrical layouts in urban environment are important parameters for estimating air quality in the urban canyon.