25.11.2019 | ICFSMA 2019 | Ausgabe 1/2020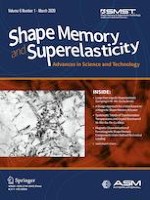 Effect of Stress-Induced Martensite Aging on Martensite Variant Reorientation Strain in NiMnGa Single Crystals
Zeitschrift:
Autoren:

Elena Panchenko, Ekaterina Timofeeva, Maria Pichkaleva, Aida Tokhmetova, Nikita Surikov, Anton Tagiltsev, Yuri Chumlyakov
Wichtige Hinweise
ICFSMA 2019 Credit Line: This article is an invited submission to Shape Memory and Superelasticity selected from presentations at the International Conference on Ferromagnetic Shape Memory Alloys (ICFSMA) held June 2–7, 2019 in Prague, Czech Republic, and has been expanded from the original presentation.
Publisher's Note
Springer Nature remains neutral with regard to jurisdictional claims in published maps and institutional affiliations.
Abstract
This work presents the effect of stress-induced martensite aging (SIM-aging) on the functional properties of Ni53Mn25Ga22 (at.%) single crystals, oriented along the [001]L21-direction. The most effective regime of SIM-aging occurred under a compressive stress of 175 MPa along the [110]L21||[100]L10-direction at 423 K, for 2 h, which induced the high-temperature two-way shape memory effect with a reversible tensile strain of +9.0%, causing the jumping of the sample during cooling/heating in free state, and a rubber-like behavior with a giant reversible compression strain up to − 13.2% caused by L10-martensite variant reorientation.