17.10.2016 | ORIGINAL ARTICLE | Ausgabe 1/2018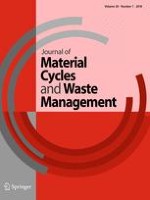 Effect of substrate feeding frequencies on the methane production and microbial communities of laboratory-scale anaerobic digestion reactors
Zeitschrift:
Autoren:

Zheng Hua Piao, Jongkeun Lee, Jae Young Kim
Abstract
Even though full-scale digesters have been designed based on laboratory-scale tests, the substrate feeding modes of laboratory-scale tests might be different from those of full-scale digesters. The effect of substrate feeding frequencies on the performance and microbial community of laboratory-scale anaerobic digestion reactors was investigated. Feeding frequencies of twice a day, once a day, and every two days were tested in three 2-L reactors with an organic loading rate of 0.5 g-glucose/L/day under mesophilic condition. According to the results of this study, all the reactors showed similar methane production rates and SCOD removal efficiencies after sufficient time of acclimation, but frequently feeding promoted more stable digestion. Although there was no significant difference in microbial diversities from pyrosequencing analyses, the changes of archaeal community composition were observed. The decrease in feeding frequency appeared to cause shifts from acetoclastic methanogens affiliated with
Methanosaeta
to H
2
-utilizing methanogens. The increase of
Methanosaeta
at a frequently feeding might contribute to the stability of reactor operation. Since this study uses glucose as the substrate, there is still possibility of different results for more complex substrates, such as sludge, food waste, etc.