11.05.2018 | Original Paper: Functional coatings, thin films and membranes (including deposition techniques) | Ausgabe 3/2018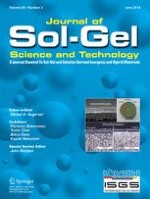 Effect of substrates on the structural, morphological, and optical properties of sprayed CdO thin films using nebulizer
Zeitschrift:
Autoren:

M. Anitha, N. Anitha, I. Kulandaisamy, L. Amalraj
Wichtige Hinweise
Highlights
Polycrystalline and pure CdO thin films were deposited using nebulized spray pyrolysis technique.

Effects of substrates of the CdO thin films were systematically studied.

The variation of band gap energy was more strongly dependent on the substrates.

XRD, SEM, and EDX studies support discussion on optoelectronic applications.
Abstract
CdO thin films were deposited on glass, quartz, FTO, silicon wafers of p-type and n-type at 200 °C of substrate temperature employing spray pyrolysis technique using nebulizer. As deposited cadmium oxide thin films were analyzed to find crystallite size, morphology of the substrate, elemental composition and band gap using X-ray diffraction (XRD), scanning electron microscopy (SEM), energy dispersive X-ray spectroscopy (EDAX) and UV–Vis spectrophotometer. Nature of the thin film was found to be polycrystalline with face centered cubic structure with (111) preferential orientation and evaluated structural parameters show significant effect of used substrates. Spherical sized grains were observed on the surface of the thin films using SEM. The EDAX analysis confirmed that cadmium and oxygen were present in the sample. Direct allowed transition with band gap values lying in the range 2.34–2.44 eV for all the films deposited on various substrates. Among, these thin film coated on FTO substrate was found to have high crystallinity with a narrow band gap, which may be more suitable for opto-electronic applications.
×