01.05.2019 | ORIGINAL PAPER | Ausgabe 5/2019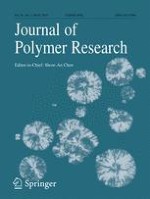 Effect of Sulphur-chlorine bifunctional diol (SCBD) on antimicrobial, thermal and mechanical behavior of polyether block amide (PEBA) based breathable membranes
Zeitschrift:
Autoren:

Bhausaheb B. Sole, Geetha Seshadri, Ajay Kumar Tyagi, Sunita Rattan
Wichtige Hinweise
Electronic supplementary material
Publisher's note
Springer Nature remains neutral with regard to jurisdictional claims in published maps and institutional affiliations.
Abstract
Polyether block amide (PEBA), a block copolymer is being blended with an organic compound 1-chloro-3-(2-hydroxyethylthio)propan-2-ol i.e. Sulphur-Chlorine Bifunctional Diol (SCBD) and membranes are obtained using solution casting method. Attempts have been made to impart antimicrobial properties to PEBA and investigate the effect of SCBD content on breathability, thermal stability and mechanical strength of the membranes. Fourier Transform Infrared – Attenuated Total Reflectance (FTIR-ATR), Scanning Electron Microscopy- Electron Dispersive X-Ray Spectroscopy (SEM-EDX), Atomic Force Microscopy (AFM), Differential Scanning Calorimetry (DSC), Thermogravimetric Analysis (TGA) and Derivative Thermogravimetry (DTG) are used to characterize the membranes. Membranes are also tested for permeability towards two commercially important gases Helium (He) and Oxygen (O2). Small amount of SCBD (2.5%) is enough to impart antimicrobial property (upto 99.99% bacterial reduction) to the membranes without altering thermal stability and mechanical strength of the membrane. Membrane with higher SCBD content (10%) show degradation in thermal and mechanical behavior. 2.5% PEBA/SCBD membrane possess acceptable WVTR (1528 g/m2/day) and WVP (16.39 g.μm/m2.day.Pa) to be used for breathable applications including environmental (waste water treatment, Helium gas separation), biomedical (breathing mask, surgical gloves & gowns, bandages) etc.