01.09.2012 | Originals Originalarbeiten | Ausgabe 5/2012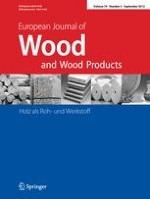 Effect of surface preparation on the wettability of heat-treated jack pine wood surface by different liquids
Zeitschrift:
Autoren:

Xianai Huang, Duygu Kocaefe, Yaman Boluk, Yasar Kocaefe, Andre Pichette
Abstract
The objectives of this study are to quantitatively evaluate, using a wetting model, the wettability of three probe liquids with different properties on heat-treated jack pine surfaces prepared by three different types of machining (sanding, planing and sawing) and to compare with those of untreated wood surfaces. The results indicate that the heat-treated wood is wetted less than the untreated wood due to degradation of wood components (hemicelluloses, lignin and cellulose) during heat treatment and it absorbs less liquid. The heat-treated wood becomes most hydrophobic when wood surfaces are sanded by 180-grit paper compared to those prepared by other machining process. Heat-treated wood surfaces are strongly acidic similar to those of untreated wood. Consequently, the basic probe liquid, formamide, shows the highest spreading and penetration rate (
K
-value) on wood surfaces.