01.04.2015 | Ausgabe 2/2015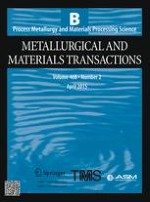 Effect of the Filter Surface Chemistry on the Filtration of Aluminum
Zeitschrift:
Autoren:

Claudia Voigt, Beate Fankhänel, Eva Jäckel, Christos G. Aneziris, Michael Stelter, Jana Hubálková
Wichtige Hinweise
Manuscript submitted June 26, 2014.
Abstract
The influence of the filter surface chemistry of alumina skeletons on the filtration effect was tested with five different oxide coating materials (Al2O3, spinel, mullite, TiO2, and SiO2). All prepared filters were casted successfully under industrial conditions. The casted aluminum samples showed no contamination caused by the filters. The evaluation of the casted filters by means of SEM and EDX showed that the amount of inclusions in the area of the run in is larger than in the middle and the run out of the filter. The most non-metallic inclusions were found in the casted filters Al2O3+Al2O3 and Al2O3+spinel. The wetting experiments yielded for all tested materials a non-wetting behavior whereby Al2O3 and spinel showed higher wetting angle than mullite, TiO2, and SiO2.