01.02.2020 | Ausgabe 2/2020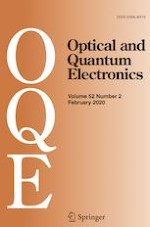 Effect of the PEDOT:PSS buffer layer on the performance of hybrid ZnO nanorods/polymer electroluminescent diode
Zeitschrift:
Autoren:

Mahdiyar Nouri Rezaie, Shahram Mohammadnejad
Wichtige Hinweise
Publisher's Note
Springer Nature remains neutral with regard to jurisdictional claims in published maps and institutional affiliations.
Abstract
Hybrid ZnO nanorods/polymer light-emitting diodes have excited much attraction because of the combination of high optoelectronic properties of ZnO nanorod with the variety and processability of polymers. In this research, the hybrid ZnO nanorods/polymer heterostructure UV-LED is investigated using ATLAS module of SILVACO TCAD software. In order to observe the influence of PEDOT:PSS hole injection layer/buffer layer in a AZO/ZnO NRs/MEH-PPV heterostructure device, first an ab initio approach have been done on PEDOT:PSS, MEH-PPV and AZO layers. The density of states, electronic band structure and the imaginary part of the dielectric function have been analyzed to deduce the electronic and optic features of the aforesaid layers. In continue, current–voltage characteristics and electroluminescence (EL) spectra of three structures of ITO/MEH-PPV/Al, ITO/ZnO/MEH-PPV/Al and ITO/ZnO/ZnO NR/MEH-PPV/Al have been simulated and compared with the literature experimental works to verify the simulation approach. Moreover, Langevin recombination rate, radiative recombination rate and luminescence power of the mentioned structures have been carefully investigated. Finally, the current–voltage characteristics, luminescence power and EL spectra of the novel proposed devices with the structures of ITO/PEDOT:PSS/AZO/ZnO NR/MEH-PPV/Al and ITO/PEDOT:PSS/ZnO/ZnO NR/MEH-PPV/Al have been investigated. The turn-on voltage of the proposed structure is decreased from 22 to 16 V because of the insertion of the PEDOT:PSS buffer layer and lowering of the hole injection barrier between ITO and ZnO layers. A little blue shift is observed around the wavelength of 380 nm which is attributed to the AZO layer.