01.01.2013 | Originals Originalarbeiten | Ausgabe 1/2013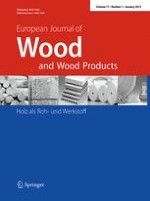 Effect of thermal treatment on the physical and mechanical properties of
phyllostachys pubescen

bamboo
Zeitschrift:
Autoren:

Ya Mei Zhang, Yang Lun Yu, Wen Ji Yu
Abstract
Thermal treatment of
Phyllostachys pubescen
bamboo was performed in a dry oven at seven temperature levels (100–220 °C) for four duration times (1–4 h). The results showed that mass loss increased with increasing temperature and duration, and the maximum reduction reached 29.0 %. The color of heat-treated bamboo was darkened and all three color parameters (L
*
a
*
b
*
) were significantly changed. Modulus of elasticity (MOE) was affected slightly when samples were heat-treated below 200 °C, even a slight increase compared with control samples; but it decreased quickly when samples were treated above 200 °C and the maximum reduction was 20.2 %. However, the Modulus of rupture (MOR) and the contents of holocellulose and α-cellulose reduced significantly with increasing temperature and duration when samples were heat-treated above 160 °C, they both strongly correlated with mass loss. It could be confirmed that thermal treatment on bamboo shows an interesting potential to improve bamboo quality.