19.03.2019 | Ausgabe 4/2019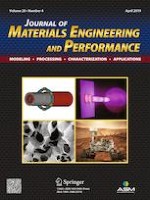 Effect of Ti Modification on Microstructures and Properties of Carbidic Austempered Ductile Iron
Zeitschrift:
Autoren:

Penghui Yang, Hanguang Fu, Rong Nan, Xingye Guo, Jian Lin, Yongping Lei
Wichtige Hinweise
Publisher's Note
Springer Nature remains neutral with regard to jurisdictional claims in published maps and institutional affiliations.
Abstract
In this paper, we investigated the effect of titanium modification on microstructures and properties of carbidic austempered ductile iron (CADI) containing 3.72 wt.% C, 2.77 wt.% Si, and 0.51 wt.% Mn. The results showed that with the addition of 0.1 wt.% Ti, TiC particles were formed, and distributed in carbides and matrix. Microstructural observation indicated that the maximum diameter of graphite nodules decreased from 58 to 40 μm, and the shape of carbides transformed from network to fragmentation, which was related to the nucleation of the eutectic structure (
γ
 + (Fe, Cr)
3
C) where TiC particles act as the nucleus. After isothermal quenching at 300 °C, the hardness of Ti-bearing CADI was 3.5 HRC higher than ordinary CADI, and the impact toughness was increased by 14.3%. Additionally, due to the decrease in exfoliation, the wear loss of Ti-bearing CADI was 14.8% lower than ordinary CADI during the block-on-ring wear test at the surface load of 300 N.