06.07.2021 | ORIGINAL ARTICLE | Ausgabe 7-8/2021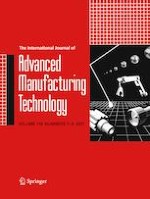 Effect of tool traverse speed on fabrication of open-cell copper foam using friction processing
Autoren:

Vyas Mani Sharma, Surjya Kanta Pal, Vikranth Racherla
Wichtige Hinweise
Author contribution
Vyas Mani Sharma has been responsible for writing this paper, planning the experiments, and analyzing all the obtained raw data. Surjya Kanta Pal and Vikranth Racherla were responsible for determining the suitable structure and contents of this paper. Their expertise was also needed in the planning of the experiments.
Data availability
The authors confirm that the data supporting the findings of this study are available within the article. The raw data that support the findings of this study are available from the corresponding author, upon a reasonable request.
Consent to participate
Not applicable. The article involves no studies on humans.
Consent to publish
Not applicable. The article involves no studies on humans.
Publisher's note
Springer Nature remains neutral with regard to jurisdictional claims in published maps and institutional affiliations.
Abstract
Large open-cell copper (Cu) foam plates were fabricated using the sintering and dissolution process with NaCl spacers. A rotating tungsten carbide (WC) tool with a flat shoulder was used to generate the temperature and pressure needed for sintering. Sintering was done on a friction stir welding machine. Tool path and die design control the sintered part shape and size. The process allows for fabrication of large three-dimensional metal foam parts on conventional milling and friction stir welding machines. NaCl volume fraction in metal powder-NaCl filler mixture was kept at 80%. Copper foam obtained in this manner had uniform porosity. Tool traverse speed affected sintering time and temperature and influenced the mechanical properties and microstructure of sintered parts. The microstructure of copper foam was studied using a scanning electron microscope. Compression tests were used to study its mechanical properties. Macro-pores were seen to have NaCl particle morphology. Foam mechanical properties were seen to be on par with that reported in literature. The sintering and dissolution process presented in this work results in open-cell foams with large surface areas. It is an attractive alternative for the fabrication of three-dimensional porous sintered parts.