01.12.2011 | Originalbeitrag | Ausgabe 4/2011 Open Access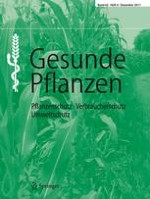 Effect of Weather Conditions on Frit Fly (
Oscinella frit,

Diptera: Chloropidae) Activity and Infestation Levels in Spring Wheat in Central Germany
Zeitschrift:
Autoren:

Nabil El-Wakeil, Christa Volkmar
Abstract
Effects of temperature, rainfall and solar radiation on frit fly (
Oscinella frit
) population and infestation level were evaluated in two wheat varieties in central Germany during 2008–2010. The effect colour of water traps (blue, white and yellow) -used in population determination- on their efficiency was also evaluated. Strong correlation was found between weather parameters and trap catches (R
2
between 0.8 and 0.98). Infestation percents were calculated by counting the infested plants at different growth stages 10–30. The weather conditions in 2008 and 2009 were drier, warmer and sunnier than 2010, which affected trap catches as well infestation percents. There was a positive correlation between blue trap catches and solar radiation and negative correlation with white and yellow traps. Infestation percents were higher in 2008 & 2009 than in 2010; although trap catches were higher in 2010 than 2008 & 2009, because weather conditions affected adult negatively ovipositon and newly larvae survival in 2010. The results indicate that weather can play a precise role in frit fly activity and its infestation levels.