29.05.2018 | Ausgabe 4/2018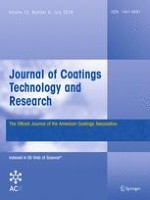 Effect on wear resistance of nanoparticles addition to a powder polyester coating through ball milling
Zeitschrift:
Autoren:

María Fernández-Álvarez, Francisco Velasco, Asunción Bautista
Wichtige Hinweise
This paper was presented at the 13th Coatings Science International Conference (COSI) on June 26–30, 2017, in Noordwijk, The Netherlands.
Abstract
The wear properties of a textured polyester powder coating with pyrogenic silica nanoparticles addition were evaluated. Raw powders of a commercial, textured polyester organic coating were mixed with low amounts of SiO2 nanoparticles (0.5–3 wt%) using ball milling, a simple and economical method. Nanoparticles were mixed into the powder of thermoset organic coating for 10 min in a two-body planetary ball mill. Particle size distribution of the powder was measured to evaluate the milling effect. The coatings were applied and cured in an industrial installation on aluminum substrates. Scanning electron microscopy (SEM) and atomic force microscopy (AFM) images of the coatings were taken to analyze the homogeneity of the organic coating. Roughness, gloss and color were measured in order to evaluate their appearance. The effect of nanoparticles on abrasive and erosion wear performances was measured. Pin-on-disk wear tests were carried out. Erosion measurements were performed with free fall of sand on the samples, a test based on ASTM D968 standard. The results showed that the milling process provides a good distribution of nanoparticles as no agglomerates were found. The addition of 0.5 wt% silica nanoparticles allows for improvement of the wear resistance of the coatings.