23.04.2020 | Ausgabe 7/2020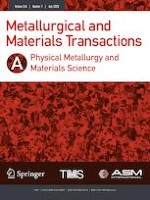 Effective Method to Enhance the Glass-Forming Ability of Vitreloy 105 Containing High Oxygen Concentrations
Zeitschrift:
Autoren:

Nelson Delfino de Campos Neto, Renan Freire de Carvalho Lopes Rocha, Flavio Soares Pereira, Carolina Soares, Felipe Henrique Santa Maria, Marcelo Falcão de Oliveira
Wichtige Hinweise
Manuscript submitted November 6, 2019.
Publisher's Note
Springer Nature remains neutral with regard to jurisdictional claims in published maps and institutional affiliations.
Abstract
Oxygen sensitiveness of Zr-based bulk metallic glasses (BMGs) is well known and has a huge detrimental effect decreasing the alloy glass-forming ability (GFA) as well as mechanical properties. Addition of rare earth elements has been widely used in attempt to overcome this drawback. Here, we present an effective method to enhance the GFA of Vitreloy 105 along five different oxygen concentrations in the range from 600 to 3000 wppm by stoichiometric Y microalloying to form Y2O3 in samples with 5 and 6 mm diameter rods. Oxygen measurements, light optical microscopy (LOM), scanning electron microscopy (SEM) in backscattered electron (BSE) mode along with energy dispersive spectroscopy (EDS), and Rietveld refinement in synchrotron X-ray diffraction patterns were used to quantitatively demonstrate the effectiveness of the stoichiometric Y microalloying methodology to enhance the GFA in this alloy. This result opens the possibility of using less expensive low-purity raw materials in the production of BMGs with good sizes (5 and 6 mm rods) without the need of extreme cooling rates and clean conditions.