06.04.2017 | Original Paper | Ausgabe 9-11/2017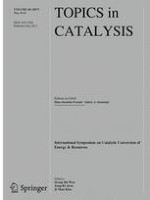 Effective Photocatalytic Performance of Ordered Mesoporous Fe2O3–TiO2 Under Visible Light
Zeitschrift:
Autoren:

Su Bin Park, Zhenghua Li, Gwi Ok Park, Ji Man Kim
Wichtige Hinweise
Electronic supplementary material
The online version of this article (doi:
10.​1007/​s11244-017-0782-4
) contains supplementary material, which is available to authorized users.
Abstract
Ordered mesoporous Fe2O3, TiO2, and Fe2O3–TiO2 composites with different molar Ti to Fe ratio were prepared via a nano-replication method using highly ordered mesoporous silica as a hard template. Physicochemical properties of the mesoporous catalysts were characterized by X-ray diffraction, electron microscopy with energy-dispersive X-ray spectroscopy, and N2 adsorption–desorption analysis. The photocatalytic performances of the catalysts were evaluated in terms of methylene blue removal efficiency, using 70 ppm methylene blue solution with 5 mM H2O2 as an assistive oxidant under UV light and visible light generated by 150 W xenon lamp system. Rate constant values were used to compare photocatalytic activities of the prepared samples. Under UV light, ordered mesoporous TiO2 showed the highest rate constant as expected, and ordered mesoporous Fe2O3–TiO2 (1:1) and (1:2) exhibited comparable catalytic activities to TiO2. In the case of visible light irradiation experiment, the highest rate constant was observed over the catalyst with Fe:Ti molar ratio of 1:1, which is probably due to its low band gap energy (about 1.90 eV). The excellent photocatalytic activity of ordered mesoporous Fe2O3–TiO2 (1:1) under both UV and visible light irradiation can be explained as a consequence of the large surface area with large pore volumes, and charge separation ability enhancement by heterojunctions between Fe2O3 and TiO2.