01.09.2009 | Ausgabe 5/2009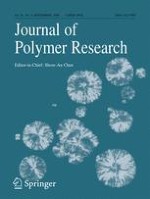 Effects of additives on non-isothermal crystallization kinetics and morphology of isotactic polypropylene
Zeitschrift:
Autoren:

Ali Durmus, Tuncer Yalçınyuva
Abstract
In this study, effects of commercial additives such as antioxidant and stabilizer on the non-isothermal crystallization kinetics of isotactic polypropylene without nucleating agents were investigated by differential scanning calorimetry (DSC) method. Kinetic parameters by Osawa, Avrami and Liu-Mo models and apparent activation energy of the crystallization by Kissinger model were calculated. A polarized optical microscope was also used to observe crystalline morphology of the polypropylene samples crystallized at different cooling rates. On the contrary rate inducing effects of the nucleating agents on the crystallization kinetics of the polypropylene, interestingly, it was found that such types of commercial additives reduced the overall crystallization rate of the polypropylene. Based on the crystallization kinetics and morphology of the samples, it was observed that commercial additives inhibit the chain diffusion toward the growing crystal faces thus slow the crystal growth rate. Furthermore, calculated nucleation activity (
ϕ
) for the additives showed that they do not act as effective nucleating agents. It was found that the crystallization activation energy of additive-free sample was higher than that of the sample which has commercial additives. Activation energies were found to be 233.6 and 276.7 kJ mol
−1
for the PP-1 and PP-2, respectively. Kinetic results also show importance of using of nucleating agents to increase the crystallization rate of polypropylene by increasing the nucleation and thus overall crystallization rate during polypropylene processing operations (esp. for a fast processing cycle in injection molding).