01.09.2018 | Research Paper | Ausgabe 9/2018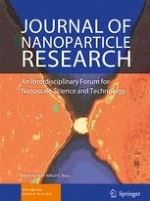 Effects of agitation intensity and sunlight on the generation and properties of aqu/nC60
Zeitschrift:
Autoren:

Guanghui Ding, Xueyao Li, Jing Zhang, Wanran Li, Ruijuan Li, Zhanning Yang, Ning Gong
Wichtige Hinweise
Electronic supplementary material
Abstract
Despite the very low water solubility of fullerene C60, stable nanoscale aggregates (aqu/nC60) can be formed by extended mixing in water. The generation and properties of aqu/nC60 in the aquatic environment depend on many environmental factors and hydrodynamic conditions. In the present study, effects of agitation intensity and sunlight on the generation and properties of aqu/nC60 were investigated during a 70-day extended mixing. The results revealed that higher agitation intensity leaded to the smaller size, more stability, and higher concentrations of aqu/nC60. As sunlight promoted the production of oxygen-containing moieties on the surface of nC60 aggregates, sunlight enhanced the generation and stability of aqu/nC60. These might suggest that stable nC60 aggregates with relatively high concentrations could be formed in turbulent waters under sunlight, which could be transported over long distances and pose potential exposure risks on aquatic organisms. Therefore, hydrodynamic conditions and sunlight, as important influencing factors, should be carefully considered in assessing the environmental behavior, fate, and risks of C60. Furthermore, the agitation intensity or at least the agitation speed should be taken into account and presented in further researches on aqu/nC60 in order to better compare the results.