01.01.2015 | Ausgabe 1/2015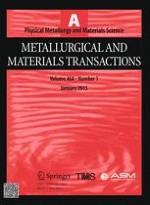 Effects of Alloy Composition on Microstructure and Mechanical Properties of Iron-Based Materials Fabricated by Ball Milling and Spark Plasma Sintering
Zeitschrift:
Autoren:

Yongquan Ye, Xiaoqiang Li, Ke Hu, Shengguan Qu, Yuanyuan Li
Wichtige Hinweise
Manuscript submitted May 9, 2014.
Abstract
Three PM steels, Fe-0.8C, Fe-2Cu-1.5Ni-0.5Mo-0.8C, and Fe-2Cu-2Ni-1Mo-1C, were fabricated by mechanical milling and spark plasma sintering. Dense sintered samples with fine and homogeneous microstructure were obtained. According to the results of X-ray diffraction, differential scanning calorimetry, and scanning electron microscopy, it is suggested that the temperature of the sample can be ~50 K (50 °C) greater than that recorded. The microstructures of the as-sintered samples are divided into two groups. One consists of both ferritic and martensitic structures, and the others are of a ferritic structure. A considerable amount of martensite exists only in those high alloy Fe-2Cu-2Ni-1Mo-1C samples. The hardness of the sintered samples mainly depends on microstructure and composition. It shows that the hardness enhances with the volume fraction of martensite. However, a lower compressive strength is observed in the samples with higher volume fraction of martensite. The analysis of the deformation behavior demonstrates that the yield strength and ultimate strength are solely correlated to the properties of ferritic structure. Discontinuously yielding phenomenon, initial work hardening exponent, and decreasing rate of strain hardening exponent with strain are considered to be sensitive to the morphology of carbides formed in the ferritic structure.