01.08.2014 | Original Paper | Ausgabe 8/2014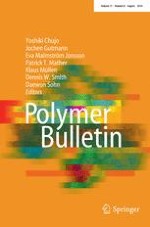 Effects of benzoyl peroxide on some properties of composites based on hemp and natural rubber
Zeitschrift:
Autoren:

Elena Manaila, Maria Daniela Stelescu, Gabriela Craciun, Lilioara Surdu
Abstract
The obtaining and characterization of polymer composites based on natural rubber and hemp, in which the elastomer crosslinking has been achieved with benzoyl peroxide, are presented. The mechanical characteristics, gel fraction, crosslink density, water uptake swelling parameters and FTIR of the composites based on natural rubber and hemp fiber vulcanized by dibenzoyl peroxide have been investigated as a function of the hemp content. The hardness, modulus at 100 % elongation, tearing strength, tensile strength and elongation at break have been improving with the increasing of fiber content in composites materials due to the better interaction of fiber in natural rubber composites. These results indicate that hemp has a reinforcing effect on natural rubber. Gel fraction value is over 95 % for all blends and varies irregularly depending on the amount of hemp in the composites. The crosslinking density (
ν
) of samples increases as the amount of hemp in blends increases, because hemp act as a filler in natural rubber blends and leads to reinforcement of the blends. The water uptake and swelling parameters also increases with the increasing of the amount of fiber content, because of the hemp hydrophilic characteristics.