31.07.2017 | Ausgabe 3/2017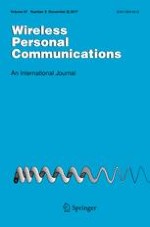 Effects of CEE and Feedback Error on Performance for AF-ORS with PSA-CE Schemes Over Quasi-Static Rayleigh Fading Channels
Zeitschrift:
Autoren:

Choongchae Woo, Sungmook Lim, Kyunbyoung Ko
Wichtige Hinweise
This research was supported by Basic Science Research Program through the National Research Foundation of Korea (NRF) funded by the Ministry of Science, ICT & Future Planning (2013R1A1A1A05008009, 2017R1A2B4012883) and by the MSIT (Ministry of Science and ICT), Korea, under the ITRC (Information Technology Research Center) support program (IITP-2017-2013-0-00680) supervised by the IITP (Institute for Information & communications Technology Promotion).
Abstract
In this paper, we propose the analytical approach for amplify-and-forward (AF) opportunistic relaying schemes (ORS). When operation of AF-ORS consists of relay selection and data transmission phases based on pilot symbol assisted-channel estimation (PSA-CE) methods over quasi-static Rayleigh fading channels, we show that the relay selection phase can be implemented by pilots symbols transmission for source-relay and relay-destination. Moreover, the feedback method for the selected relay index is proposed to have a simple fashion. Then, we investigate the effects of both a channel estimation error and an estimated noise variance, which are obtained by PSA-CE methods, on the received signal-to-noise ratio (SNR). The average SNR loss is also derived in terms with the number of pilots in PSA-CE methods. Moreover, the average symbol error rate, the outage probability, and the normalized channel capacity of the ORS are derived in approximated closed-form expressions for an arbitrary link SNR when the channel state information in the source-relay-destination link is estimated based on transmitted pilots symbols. As the number of pilot symbols, the derived analytical approach is verified, and by comparing it with simulation results, the accuracy is demonstrated. In addition, it is verified that the effect of the feedback error can be neglected for PAS-CE methods over quasi-static fading channels.