11.06.2018 | Original Paper | Ausgabe 8/2018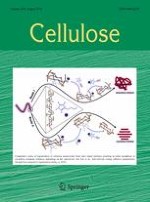 Effects of chitin nanofibers on the microstructure and properties of cellulose nanofibers/chitin nanofibers composite aerogels
Zeitschrift:
Autoren:

Kezheng Gao, Yaqing Guo, Qingyuan Niu, Hua Fang, Linsen Zhang, Yong Zhang, Lizhen Wang, Liming Zhou
Wichtige Hinweise
Electronic supplementary material
Abstract
Cellulose nanofiber/chitin nanofiber (CCN) suspensions can be converted into uniform composite hydrogels under acidic condition, because the chitin nanofiber and cellulose nanofiber have C6 carboxylate groups on their surfaces, which form hydrogen bonds. However, the electrostatic repulsion caused by the amino cations on the chitin nanofiber surface can prevent the formation of hydrogen bonds to a certain extent under acidic condition. When the charged state of C2 amino groups change at neutral pH, 3D hydrogen-bonded network of cellulose nanofiber/chitin nanofibes composite hydrogels can be retained. Therefore, the mechanical strength of CCN composite hydrogels decreases dramatically with the increase of the chitin nanofiber content. The locally unidirectional crystallization process of hexagonal prism ice crystal in the hydrogel can be affected by variations in the mechanical strength of CCN composite hydrogels. Thus, the microstructures of CCN composite aerogels can be effectively adjusted by changing the chitin nanofiber content. The composite aerogel containing 30% chitin nanofibers has a honeycomb microstructure and optimum mechanical property at intermediate strains. There are numerous stacked mesopores in the nanosheet structural units of all CCN composite aerogels, and the stacked pore size distribution is relatively unaffected by the ratio of cellulose nanofibers to chitin nanofibers. CCN-70 composite aerogel (containing 70% chitin nanofiber) has the highest Barrett-Emmett-Teller (BET) surface area (approximately 94 m2 g−1).
Graphical Abstract
Structure and properties of CCN aerogels can be effectively controlled by chitin nanofibers due to C6 carboxylate and C2 amino groups on the surface of chitin nanofibers.
×