09.05.2019 | Ausgabe 5/2019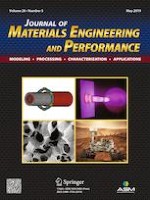 Effects of Heat Input on Weld-Bead Geometry, Surface Chemical Composition, Corrosion Behavior and Thermal Properties of Fiber Laser-Welded Nitinol Shape Memory Alloy
Zeitschrift:
Autoren:

Partha Saha, Susmita Datta, Mohammad Shahid Raza, Dilip Kumar Pratihar
Wichtige Hinweise
Publisher's Note
Springer Nature remains neutral with regard to jurisdictional claims in published maps and institutional affiliations.
Abstract
Bead-on-plate laser welding was carried out on 1-mm-thick Nitinol sheets at different heat input values. The variations in weld-bead geometry and variations in microstructures across the bead were studied. The effects of heat input on surface layer composition of the welded samples, corrosion properties and phase transformation temperature were examined. From x-ray photoelectron spectroscopy (XPS), it was clear that relative intensity of elemental Ni peak was higher in parent material and the oxidation state of Ti was Ti4+. It was further observed from Auger electron spectroscopy (AES) that the Ti to Ni ratio on the top surface of the welded samples was more than 1, and as a result of this the stability of TiO2 layer was enhanced, which eventually helped to improve the corrosion property of the welded samples. The polarization resistance of the welded samples was increased by more than ten times compared to that of the un-welded samples. From differential scanning calorimetry (DSC), it became evident that phase transformation temperatures got changed due to welding.