11.06.2018 | Ausgabe 10/2018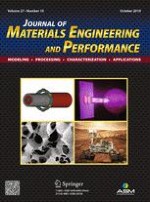 Effects of In Situ Intermetallics on the Microstructural Array and Saline Corrosion Performance of Cast Al/WCp Composites
Zeitschrift:
Autoren:

A. G. Lekatou, N. Gkikas, V. Gousia, K. Lentzaris, A. E. Karantzalis
Wichtige Hinweise
This article is an invited submission to JMEP selected from presentations at the Symposium "Solidification, Casting, Foundry and Liquid Metal Processing," belonging to the Topic "Processing" at the European Congress and Exhibition on Advanced Materials and Processes (EUROMAT 2017), held September 17-22, 2017, in Thessaloniki, Greece, and has been expanded from the original presentation.
Abstract
Al-matrix composites, ex situ reinforced with WC nanoparticles and in situ reinforced with Al3(Ti,W), Al12W, Al5W and Al4W, have been fabricated by casting assisted by K2TiF6 wetting agent addition and mechanical stirring. A satisfactory particle incorporation and distribution accompanied by a high reactivity have been attained. The presence, topography, chemical composition of all included phases and their occurrence as clusters or single particles are clarified and justified. Al12W is the predominant aluminide phase at WC ≤ 1.5 vol.%. Al4W (primarily) and Al5W (secondarily) are the predominant aluminide phases at WC ≥ 2.0 vol.%. WC nanoparticles have acted as heterogeneous nucleation sites to Al3Ti particles. Reverse polarization tests in 3.5 wt.% NaCl show that the governing form of corrosion is intergranular corrosion of Al around Al3FeSi2 eutectic, fine plates. The corrosion steps/mechanisms are identified. Clusters of aluminides and carbide nanoparticles, as well as intergranular WC nano-dispersoids and their Al-matrix have remained corrosion-free. The role of the aluminides combined with WC remaining nano-cores as inhibitors of the eutectic Al3FeSi2 cathodic activity is highlighted.