23.04.2019 | Ausgabe 5/2019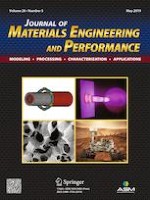 Effects of Laser Fluence on Microstructure and Bonding Characteristics of Wideband Laser-Deposited Nickel Composite Coatings
Zeitschrift:
Autoren:

Qunshuang Ma, Yajiang Li, Xiaohui Yin, Wei Meng
Wichtige Hinweise
Publisher's Note
Springer Nature remains neutral with regard to jurisdictional claims in published maps and institutional affiliations.
Abstract
The wideband laser has shown great potential in metal–ceramic coatings deposition due to the high efficiency and low dilution rate. However, the effects of wideband laser process on microstructure evolution and bonding mechanism at the coatings/substrate interface are still a critical problem and need further investigation. In this work, nickel composite coatings are fabricated on the surface high-strength low-alloy steel. The effects of laser fluence on microstructure evolution, shear strength and fracture mechanism are studied. Results indicated the added WC particles were partly dissolved due to the high-power laser irradiation. Many block precipitates and dense eutectic were synthesized in composite coatings. Reinforced phases mainly consist of Cr5B3, Cr23C6, W2C and Cr3Ni2. The dilution of Q550 steel contributed to the formation of nickel dendrites and facilitated a dense metallurgical bonding at coating/substrate interface when laser fluence was high. Shear strength tests indicated the laser fluence and shear strength had a positive correlation. For Ni60/WC composite coatings designed in these experiments, the recommend laser fluence should be higher than 55 J/mm2, above which the shear strength could be greater than 200 MPa. Fracture surfaces indicated the failure mechanism of composite coatings was quasi-cleavage fracture.