12.01.2017 | Ausgabe 2/2017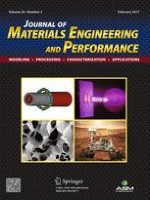 Effects of Metal Ions on the Aluminum Electrodeposition from Ionic Liquids
Zeitschrift:
Autoren:

Stefano Caporali, Stefano M. Martinuzzi, Peter Von Czarnecki, Thomas J. S. Schubert, Ugo Bardi
Abstract
In this study, we report on the effects of three common transition metal ions, i.e., Ni
2+
, Cu
2+
and Fe
3+
on the electrodeposition of aluminum from a chloroaluminate ionic liquid, evaluated by means of electrochemical and morphological investigation. Aiming at the determination of the morphological and chemical effects on the aluminum coatings, variable amounts of ions were introduced into the electroplating bath. Thick (about 20
μ
m) Al coatings were obtained by direct deposition (galvanostatic, 10 mA cm
2
, 2 h) on brass or carbon steel substrates (10 mm diameter disks), and their morphology was examined via rugosimetry, optical and electron microscopy. The chemical composition of the deposits was provided by EDX analysis. Nickel and iron resulted to have only moderate effects on the coatings properties, but copper affected the process even in tiny amounts being detected in the deposits for bath content as low as 10 ppm.