16.06.2020 | Ausgabe 9/2020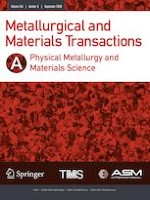 Effects of Mg Content on Characteristics of Nanoscale TiN Particles and Toughness of Heat-Affected Zones of Steel Plates After High-Heat-Input Welding
Zeitschrift:
Autoren:

Longyun Xu, Jian Yang
Wichtige Hinweise
Manuscript submitted August 13, 2019.
Publisher's Note
Springer Nature remains neutral with regard to jurisdictional claims in published maps and institutional affiliations.
Abstract
The effect of Mg content on nanoscale particles and toughness in the heat-affected zone (HAZ) of steel plates after high-heat-input welding of 400 kJ cm−1 has been investigated through welding thermal simulation and nonaqueous electrolytic extraction. The results showed that most nanoscale particles were rectangular TiN particles with the sizes in the range of 50 to 300 nm. With increasing Mg content in steel from 0.0002 to 0.0044 wt pct, the number density and mean diameter of nanoscale TiN particles were increased from 0.38 to 5.11 × 108 mm−3 and decreased from 111 to < 75 nm, respectively. It was found that Mg deoxidation of molten steel was beneficial to the formation of fine TiN particles. Also, the HAZ toughness was improved by increasing the number of nanoscale TiN particles per unit volume. The improvement of HAZ toughness was attributed to the intensification of the pinning effect for retardation of the austenite grain growth by the incremental portion of fine TiN particles.