29.08.2016 | Ausgabe 1/2017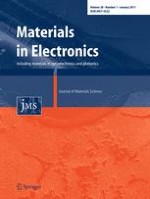 Effects of Mn doping on dielectric and ferroelectric characteristics of lead-free (K, Na, Li)NbO3 thin films grown by chemical solution deposition
Autoren:

Xinxiu Zhang, Jinsong Liu, Kongjun Zhu, Jing Wang, Ziquan Li, Jinhao Qiu
Wichtige Hinweise
Xinxiu Zhang and Jinsong Liu contributed equally to this work.
Abstract
High-quality lead-free piezoelectric
x
Mn-doped (K
0.48
Na
0.52
)
0.985
Li
0.015
NbO
3
films (KNLN;
x
= 0, 0.01, 0.02, 0.03) were successfully deposited onto Pt(111)/Ti/SiO
2
/Si(100) substrates by sol–gel method. Effects of Mn substitution on the microstructure, dielectric properties, ferroelectric properties, and leakage current of the KNLN films were investigated in detail. Mn-doping can significantly improve the ferroelectric properties and decrease the leakage current of KNLN films. Optimal dielectric properties were obtained in films doped with 2 mol% Mn, whose dielectric constant and dielectric loss at 1 kHz were 875 and 0.030, respectively. In addition, well-saturated ferroelectric
P
-
E
hysteresis loop with large remanent polarization (2
P
r
) and coercive field (
E
c
) of 22.5 μC/cm
2
and 65 kV/cm were obtained in 2 mol% Mn-doped KNLN film at an applied electric field of 200 kV/cm.