10.08.2018 | Ausgabe 20/2018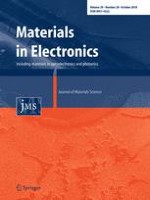 Effects of MnFe2O4 nanoparticles on dielectric properties of Cu0.5Tl0.5Ba2Ca2Cu3O10−δ superconducting phase
Autoren:

M. Mumtaz, M. Touqeer, M. Nasir Khan
Abstract
Magnetic manganese ferrite (MnFe
2
O
4
) nanoparticles were synthesized by sol–gel method and solid-state reaction method was chosen for preparation of the superconducting Cu
0.5
Tl
0.5
Ba
2
Ca
2
Cu
3
O
10−δ
(CuTl-1223) phase. Superconducting-nanoparticles (MnFe
2
O
4
)
x
/CuTl-1223; x = 0–2.0 wt% composites were obtained by adding MnFe
2
O
4
nanoparticles in CuTl-1223 superconducting matrix. The unchanged tetragonal crystal structure of the host CuTl-1223 superconducting phase witnessed that MnFe
2
O
4
nanoparticles were not decomposed and settled at the grain-boundaries. The superconductivity was over all suppressed due to the reduction of superconducting volume fraction and enhanced scattering cross-section of the mobile charge carriers across these magnetic MnFe
2
O
4
nanoparticles settled at the grain-boundaries of the host superconducting CuTl-1223 phase. The frequency dependent dielectric properties of (MnFe
2
O
4
)
x
/CuTl-1223 composites were probed at different operating temperatures. Different dielectric parameters (i.e.
ɛ
′
r,
ɛ
″
r
, tan
δ
and
σ
ac
) were determined from the experimentally measured capacitance (C) and conductance (G). The variation of these dielectric properties of CuTl-1223 superconducting phase with the variation of test frequency, contents of MnFe
2
O
4
nanoparticles and operating temperature were investigated, correlated, compared and explained. These investigations can be very useful for the selection criteria of the materials for the practical applications.