26.05.2020 | Technical Article | Ausgabe 2/2020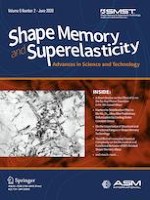 Effects of Ni and Co on Phase Transformation and Shape Memory Effect of Ti–Pd–Zr Alloys
Zeitschrift:
Autoren:

Yoko Yamabe-Mitarai, Brandon Ohl, Karolina Bogdanowicz, Ewelina Muszalska
Wichtige Hinweise
This invited article is part of a special issue of
Shape Memory and Superelasticity
to honor Prof. Dr.-Ing. Gunther Eggeler. This special issue was organized by Prof. Hüseyin Sehitoglu, University of Illinois at Urbana-Champaign, and Prof. Dr.-Ing. Hans Jürgen Maier, Leibniz Universität Hannover.).
Publisher's Note
Springer Nature remains neutral with regard to jurisdictional claims in published maps and institutional affiliations.
Abstract
Effect of single and simultaneous addition of Ni and Co to Ti45Zr5Pdx on the phase transformation and strain recovery of the alloys was investigated to understand multi-component effect on high-temperature shape memory alloys. The martensitic transformation from B2 to B19 structures occurred in Ti45Zr5Pd40Ni10, Ti45Zr5Pd40Co10, Ti45Zr5Pd40Ni8Co2, and Ti45Zr5Pd40Ni2Co8. In contrast, at room temperature, martensitic transformation did not occur and the B2 structure was stable in Ti45Zr5Pd30Ni20 and Ti45Zr5Pd40Ni5Co5. This is due to the effect of Ni for Ti45Zr5Pd30Ni20 and the effect of multi-component for Ti45Zr5Pd40Ni5Co5. The shape memory effect was investigated using a thermal cyclic test. The perfect shape recovery was obtained after the repeated thermal cyclic test, indicating the potential of TiZrPd (Ni, Co) alloys as shape memory alloys.