01.01.2015 | Ausgabe 1/2015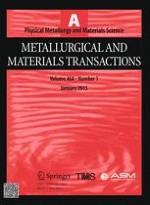 Effects of Non-metallic Inclusions on Machinability of Free-Cutting Steels Investigated by Nano-Indentation Measurements
Zeitschrift:
Autoren:

Yu-Nan Wang, Jian Yang, Yan-Ping Bao
Wichtige Hinweise
Manuscript submitted March 13, 2014.
Abstract
In the present paper, the nano-indentation technique is used to investigate the effects of inclusions on machinability of free-cutting steel. Firstly, the hardness, elastic moduli, and load–displacement curves of inclusions are analyzed and compared with matrix. Secondly, the effects of inclusions on machinability are investigated using nano-indentation measurements and thermodynamic calculations. Lastly, errors of nano-indentation measurements and macrohardness tests are analyzed. The hardness of BN is lower than that of MnS. Both of them have lower hardness than those of matrices. Since the hardness of Al2O3 and TiN is higher than that of matrices, they exist as hard spots in steels. The elasticities of BN and MnS are much better than those of Al2O3, TiN, and matrices. BN and MnS which have lower hardness values and better elasticities than matrices can improve the machinability of steel effectively. Special attention should be paid to the effects of inclusions in steel on the results of nano-indentation measurement and macrohardness test.