01.09.2012 | Ausgabe 3/2012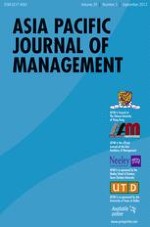 Effects of perceptions on LMX and work performance: Effects of supervisors' perception of subordinates' emotional intelligence and subordinates' perception of trust in the supervisor on LMX and, consequently, performance
Zeitschrift:
Autoren:

Ziguang Chen, Wing Lam, Jian An Zhong
Wichtige Hinweise
This paper was supported by grants from the Research Grants Council of the Hong Kong Special Administrative Region, China (GRF No. CityU 1432/05H and CityU141007), the Newly Recruited Junior Academic Staff Research Funds (No. A-PC1G) from the Hong Kong Polytechnic University, and the programming project of the philosophy and social science in Zhejiang Province, China (No. 09CGGL00YB).
Abstract
There are few studies on how the perception of supervisors by their subordinates contributes to high-quality leader-member exchange (LMX). We thus propose that the trust perception of supervisors by their subordinates can help explain the development of high-quality LMX. Furthermore, the trust perception may interact with supervisor-rated emotional intelligence to influence the quality of LMX, and, consequently, work performance. Using a longitudinal study on a sample of 285 supervisor-subordinate dyads from a manufacturing firm in China, we found that (1) supervisor-rated emotional intelligence of subordinates (Time 1) positively predicts the quality of LMX (Time 2); (2) this relationship is stronger when subordinates highly trust their supervisors (Time 1); (3) LMX (Time 2) positively predicts work performance (Time 3); and (4) LMX (Time 2) fully mediates the interactive effect of emotional intelligence (Time 1) and trust in the supervisor (Time 1) on work performance (Time 3).