05.07.2019 | Ceramics | Ausgabe 19/2019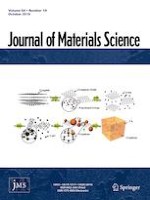 Effects of phase composition and grain size on the piezoelectric properties of HfO2-doped barium titanate ceramics
Zeitschrift:
Autoren:

Hong-Mei Yin, Wen-Jun Xu, Heng-Wei Zhou, Xing-Yu Zhao, Yi-Neng Huang
Wichtige Hinweise
Publisher's Note
Springer Nature remains neutral with regard to jurisdictional claims in published maps and institutional affiliations.
Abstract
The effect of grain size and phase compositions on piezoelectric coefficient of BaTi0.98Hf0.02O3 ceramics prepared at a series of sintering temperatures (1320, 1350, 1370, and 1400 °C) was studied. The results showed that the grain size of the ceramics is 0.9, 21.3, 21.6, and 37.2 μm, respectively, and the corresponding phase compositions are the tetragonal–orthogonal, tetragonal–orthogonal–rhombohedral, tetragonal–orthogonal, and tetragonal–orthogonal–rhombohedral, while the piezoelectric coefficient is 475, 352, 258, and 327 pC/N, i.e., it decreases first and then increases as the grain size goes up. The phase compositions and grain size of the ceramics are interrelated, and they co-affect the piezoelectric coefficient.