04.06.2018 | Technical Publication | Ausgabe 5/2018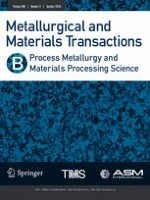 Effects of Powder Carrier on the Morphology and Compressive Strength of Iron Foams: Water
vs

Camphene
Zeitschrift:
Autoren:

Hyeji Park, Teakyung Um, Kicheol Hong, Jin Soo Kang, Ho-Seok Nam, Kyungjung Kwon, Yung-Eun Sung, Heeman Choe
Wichtige Hinweise
Hyeji Park and Teakyung Um have equally contributed to this work.
Manuscript submitted December 7, 2017.
Abstract
With its well-known popularity in structural applications, considerable attention has recently been paid to iron (Fe) and its oxides for its promising functional applications such as biodegradable implants, water-splitting electrodes, and the anode of lithium-ion batteries. For these applications, iron and its oxides can be even further utilized in the form of porous structures. In order to control the pore size, shape, and amount, we synthesized Fe foams using suspensions of micrometric Fe
2
O
3
powder reduced to Fe
via
freeze casting in water or liquid camphene as a solvent through sublimation of either ice or camphene under 5 pct H
2
/Ar gas and sintering. We then compared them and found that the resulting Fe foam using water as a solvent (
p
 = 71.7 pct) showed aligned lamellar macropores replicating ice dendrite colonies, while Fe foam using camphene as a solvent (
p
 = 68.0 pct) exhibited interconnected equiaxed macropores replicating camphene dendrites. For all directions with respect to the loading axis, the compressive behavior of the water-based Fe foam with a directional elongated wall pore structure was anisotropic (11.6 ± 0.9 MPa
vs
7.8 ± 0.8 MPa), whereas that of the camphene-based Fe foam with a random round pore structure was nearly isotropic (12.0 ± 1.1 MPa
vs
11.6 ± 0.4 MPa).