12.11.2016 | Research Report | Ausgabe 1/2017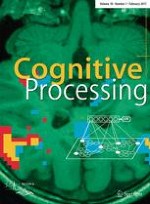 Effects of proactive interference on non-verbal working memory
Zeitschrift:
Autoren:

Marilyn Cyr, Derek E. Nee, Eric Nelson, Thea Senger, John Jonides, Chara Malapani
Wichtige Hinweise
Electronic supplementary material
The online version of this article (doi:
10.​1007/​s10339-016-0784-3
) contains supplementary material, which is available to authorized users.
Handling editor: Paul Verhaeghen (Georgia Institute of Technology).
Reviewers: Zach Shipstead (Arizona State University), Michael Bunting (University of Maryland).
Abstract
Working memory (WM) is a cognitive system responsible for actively maintaining and processing relevant information and is central to successful cognition. A process critical to WM is the resolution of proactive interference (PI), which involves suppressing memory intrusions from prior memories that are no longer relevant. Most studies that have examined resistance to PI in a process-pure fashion used verbal material. By contrast, studies using non-verbal material are scarce, and it remains unclear whether the effect of PI is domain-general or whether it applies solely to the verbal domain. The aim of the present study was to examine the effect of PI in visual WM using both objects with high and low nameability. Using a Directed-Forgetting paradigm, we varied discriminability between WM items on two dimensions, one verbal (high-nameability vs. low-nameability objects) and one perceptual (colored vs. gray objects). As in previous studies using verbal material, effects of PI were found with object stimuli, even after controlling for verbal labels being used (i.e., low-nameability condition). We also found that the addition of distinctive features (color, verbal label) increased performance in rejecting intrusion probes, most likely through an increase in discriminability between content–context bindings in WM.