04.06.2018 | Ausgabe 4/2018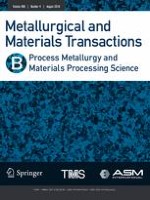 Effects of Reoxidation of Liquid Steel and Slag Composition on the Chemistry Evolution of Inclusions During Electroslag Remelting
Zeitschrift:
Autoren:

Chengbin Shi, Hui Wang, Jing Li
Wichtige Hinweise
Manuscript submitted October 20, 2017.
Abstract
Electroslag remelting (ESR) is increasingly used to produce some varieties of special steels and alloys, mainly because of its ability to provide extreme cleanliness and an excellent solidification structure simultaneously. In the present study, the combined effects of varying SiO2 contents in slag and reoxidation of liquid steel on the chemistry evolution of inclusions and the alloying element content in steel during ESR were investigated. The inclusions in the steel before ESR refining were found to be oxysulfides of patch-type (Ca,Mn)S adhering to a CaO-Al2O3-SiO2-MgO inclusion. The oxide inclusions in both the liquid metal pool and remelted ingots are CaO-Al2O3-MgO and MgAl2O4 together with CaO-Al2O3-SiO2-MgO inclusions (slightly less than 30 pct of the total inclusions), which were confirmed to originate from the reduction of SiO2 from the original oxide inclusions by dissolved Al in liquid steel during ESR. CaO-Al2O3-MgO and MgAl2O4 are newly formed inclusions resulting from the reactions taking place inside liquid steel in the liquid metal pool caused by reoxidation of liquid steel during ESR. Increasing the SiO2 content in slag not only considerably reduced aluminum pickup in parallel with silicon loss during ESR, but also suppressed the decrease in SiO2 content in oxide inclusions. (Ca,Mn)S inclusions were fully removed before liquid metal droplets collected in the liquid metal pool.