01.09.2015 | Original Paper | Ausgabe 3/2015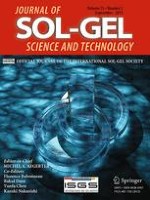 Effects of seed layer and crystallization process on crystal orientation and properties of NKBT thin films
Zeitschrift:
Autoren:

Wenhan Cui, Xiaohui Wang, Longtu Li
Abstract
Lead-free (Na
0.85
K
0.15
)
0.5
Bi
0.5
TiO
3
(NKBT) piezoelectric thin films were fabricated via an aqueous sol–gel method on Pt(111)/Ti/SiO
2
/Si substrates. The thin films, with and without Pb
0.8
La
0.1
Ca
0.1
Ti
0.975
O
3
seed layer, were obtained by single-crystallization and multiple-crystallization processes. The NKBT thin films derived by multiple-crystallization process exhibited better single perovskite structure, and the films with PLCT seed layers were well crystallized with high (100) orientation. The effects that seed layer and different crystallization processes have on crystal orientation and electrical properties can be attributed to extrinsic and intrinsic contributions, and their different mechanism and ranges of improvement in the dielectricity and piezoelectricity are observed and discussed. The NKBT thin films that prepared by multiple crystallization with PLCT seed layer had the best electric property with
ε
r
of 598, tan
δ
of 0.08, and
d
33
of 136 pm/V.
Graphical Abstract
×