16.01.2021 | ORIGINAL ARTICLE | Ausgabe 2/2021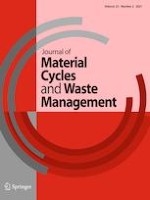 Effects of sewage sludge ash produced at different calcining temperatures on pore structure and durability of cement mortars
Zeitschrift:
Autoren:

Minghao Liu, Yading Zhao, Zhenyun Yu
Wichtige Hinweise
Publisher's Note
Springer Nature remains neutral with regard to jurisdictional claims in published maps and institutional affiliations.
Abstract
The effects of calcining temperatures (ranging from 500 to 900 ℃) on the characterization of sewage sludge ash (SSA) and the pore structure and durability properties, including drying shrinkage and freezing–thawing resistance of SSA blended cement mortars are reported in this paper. The findings of this study indicated that the SSA displayed lower particle size and higher specific surface area in comparison to cement particles. The increase in the calcining temperature resulted in the lower loss on ignition and higher content of amorphous phase. The SSA calcined at 700 ℃ exhibited the highest pozzolanic activity index. Studies on the properties of SSA blended mortars showed that SSA had the effect of refining the pore size of matrix by means of micro-aggregate filling effect. The incorporation of SSA increased the drying shrinkage of mortars significantly. However, the refining effect of SSA on the pore structure can offset the frozen-heave stress and reduce the viscous resistance in the matrix, resulting in the enhancement of freezing–thawing resistance of mortars. The mortar containing SSA produced at 700℃ exhibited the lowest drying shrinkage and the highest freezing–thawing resistance.