14.11.2018 | Original | Ausgabe 1/2019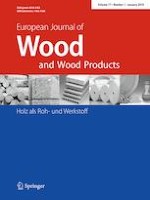 Effects of short-cut fiber type and water-jet pressure sum on wet strength and dispersibility of wood pulp-based wetlaid/spunlace wipes
Zeitschrift:
Autoren:

Yinjiang Zhang, Yukang Xu, Yi Zhao, Chen Huang, Xiangyu Jin
Wichtige Hinweise
Publisher's Note
Springer Nature remains neutral with regard to jurisdictional claims in published maps and institutional affiliations.
Abstract
Wetlaid/spunlace (wetlace) materials consisting of wood pulp and short-cut fibers are leading the way in the development of dispersible moist wipes due to their wet strength during use and disintegration under flow field. However, short-cut fibers are still not well understood in terms of reasonable balance between material wet strength and dispersibility. In this study, wetlace materials were prepared via four types of water-jet pressure sums, and the effects of four types of short-cut fibers (Lyocell, Danufil, Viloft and hydrophilic polyester) on the wet strength and dispersibility of wetlace materials were investigated for the first time. The results suggest that at a water-jet pressure sum of around 190 bars, wood pulp/Lyocell wetlace material reaches the dispersion threshold, but wood pulp/hydrophilic polyester material has lost dispersibility, and the former wet strength is much higher than the latter. However, the required water-jet pressure sum at the dispersion threshold of wood pulp/Danufil or wood pulp/Viloft wetlace materials are more than 200 bars, and the corresponding wet strength is close to that of wood pulp/Lyocell wetlace material. Overall, Lyocell entanglements as reinforcement of wetlace material can achieve sufficient wet strength and excellent dispersibilty with low water-jet pressure sum, providing guidelines for the production of excellent pulp-based moist wipes.