02.05.2018 | Topical Collection: Metallurgical Processes Workshop for Young Scholars | Ausgabe 4/2018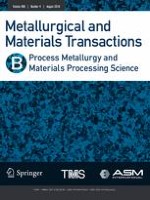 Effects of Static Recrystallization and Precipitation on Mechanical Properties of 00Cr12 Ferritic Stainless Steel
Zeitschrift:
Autoren:

Yi Shao, Chenxi Liu, Tengxiao Yue, Yongchang Liu, Zesheng Yan, Huijun Li
Wichtige Hinweise
Manuscript submitted September 5, 2017.
Abstract
The 00Cr12 ferritic stainless steel samples were isothermally held at different temperatures in the range of 700 °C to 1000 °C to investigate the effect of static recrystallization and precipitation on mechanical properties, such as microhardness, tensile strength, and yield strength. The results show that the formation of the fine recrystallized grain, as well as precipitation, coarsening, and dissolution of the second-phase particles, influences the mechanical properties remarkably. The fine recrystallized grain can provide a positive grain boundary-strengthening effect in the sample under a relatively high holding temperature. Coarsening and dissolution of M23C6 result in partial depletion of precipitate hardening. In contrast, the size and number density of MX particles are almost constant, regardless of the holding temperature; therefore, it can provide a better precipitation-hardening effect.