12.04.2018 | Ausgabe 5/2018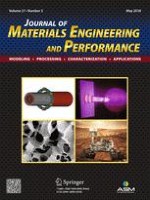 Effects of Stress Ratio and Microstructure on Fatigue Failure Behavior of Polycrystalline Nickel Superalloy
Zeitschrift:
Autoren:

H. Zhang, Z. W. Guan, Q. Y. Wang, Y. J. Liu, J. K. Li
Abstract
The effects of microstructure and stress ratio on high cycle fatigue of nickel superalloy Nimonic 80A were investigated. The stress ratios of 0.1, 0.5 and 0.8 were chosen to perform fatigue tests in a frequency of 110 Hz. Cleavage failure was observed, and three competing failure crack initiation modes were discovered by a scanning electron microscope, which were classified as surface without facets, surface with facets and subsurface with facets. With increasing the stress ratio from 0.1 to 0.8, the occurrence probability of surface and subsurface with facets also increased and reached the maximum value at
R
 = 0.5, meanwhile the probability of surface initiation without facets decreased. The effect of microstructure on the fatigue fracture behavior at different stress ratios was also observed and discussed. Based on the Goodman diagram, it was concluded that the fatigue strength of 50% probability of failure at
R
 = 0.1, 0.5 and 0.8 is lower than the modified Goodman line.