01.03.2015 | Original | Ausgabe 2/2015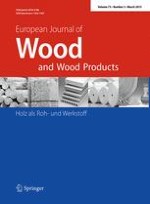 Effects of zirconaluminate coupling agent on mechanical properties, rheological behavior and thermal stability of bamboo powder/polypropylene foaming composites
Zeitschrift:
Autoren:

Xia Xing Zhou, Yan Yu, Li Hui Chen
Abstract
To improve the interfacial adhesion of bamboo powder (BP) and polypropylene (PP), the effects of zirconaluminate coupling agent (TL) on the mechanical properties, rheological behavior and thermal stability of 33 wt% injection moulded BP/PP foaming composites were investigated. The bending and tensile properties were enhanced first as the TL content increased and then decreased as the TL content exceeded 1 %; the notched impact strength improved steadily with increased TL content. The 1 % TL-treated composite showed the best comprehensive mechanical properties; the bending, tensile, and notched impact strengths were increased by 9.0, 9.7, and 16.1 %, respectively; and water absorption for 1,920 h was decreased from 8.85 to 2.61 % compared to the untreated composite. The frequency sweep results indicated that the slope of lg
G
′–lg
f
curve increased from 0.709 in the untreated composite to 0.842 in the 1 % TL-treated composite. The TG results revealed that thermal stability was slightly improved in the TL-treated composite. Environmental scanning electron microscopy showed that the interfacial compatibility of the treated composite improved, which was confirmed by Fourier transform infrared spectroscopy and X-ray photoelectron spectroscopy analysis.