26.07.2016 | Ausgabe 12/2016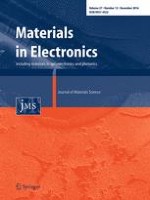 Effects of ZrO2–ZnO on the sintering behavior and microwave dielectric properties of 0.65CaTiO3–0.35SmAlO3 ceramics
Autoren:

Lisong Hu, Hongqing Zhou, Qinglei Sun, Luchao Ren, Xianfu Luo, Yongkang Hu, Yunsheng Xia
Abstract
The 0.65CaTiO
3
–0.35SmAlO
3
(CTSA) ceramics were synthesized by the conventional solid-state reaction technique. The effects of ZrO
2
–ZnO additives on the phase compositions, densification, sintering temperature and microwave dielectric properties were investigated. It has been found that a perovskite phase is the main phase and a second phase CaZrTi
2
O
7
appeared as ZrO
2
content increasing to 1 wt % in CTSA ceramics. The appropriate ZrO
2
and ZnO additions could not only effectively lower the sintering temperature of CTSA ceramics to 1340 °C, but also promote the densification and microwave dielectric properties. But excessive additives deteriorated the microstructures and comprehensive properties of samples. Typically, excellent microwave dielectric properties:
ε
r
= 44.65,
Q
×
f
= 38,600 GHz (at 5.0 GHz) and
τ
f
= −8.36 ppm/°C were obtained for CTSA ceramics sintered at 1340 °C doped with 0.5 wt% ZrO
2
and 1 wt% ZnO.