08.10.2018 | Ausgabe 8/2018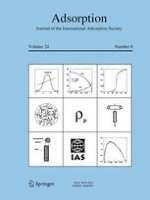 Efficient adsorption toward precious metal from aqueous solution by zeolitic imidazolate framework-8
Zeitschrift:
Autoren:

Chenghong Hu, Weifeng Xu, Xiaohui Mo, Hua Li, Siman Zhou, Panliang Zhang, Kewen Tang
Wichtige Hinweise
Chenghong Hu and Weifeng Xu equally contributed to the work.
Abstract
The recycling of precious metal ions is highly desirable to the environment and economy. In this work, zeolitic imidazolate framework-8 (ZIF-8), a porous and relatively stable adsorption material, was explored for the adsorption of Au from water. Important conditions affecting the adsorption performance were investigated, including pH, adsorption time, initial concentration, and temperature. In consequence, the ZIF-8 adsorbent exhibits excellent adsorption performance toward Au(III) with high adsorption capacity of 1192 mg g−1 at pH 2.5 and 298 K. In addition, the study of recycling use indicated that the stable adsorption performance being maintained after recycle twice. The adsorption process of Au(III) onto ZIF-8 undergoes a spontaneous endothermic process and fits well with the Freundlich isotherm model. Kinetics studies indicated that the kinetics follows pseudo-second-order model and the intraparticle diffusion is the adsorption rate-determining step. Mechanism studies suggested that the electrostatic interaction and partial reduction of Au(III) play vital roles in the adsorption process. This work introduces a promising adsorbent for Au separation due to its considerable adsorption capacity, outstanding stability, and facile regeneration.